Our cooking team have had another really busy half year. We've been out to do demonstration sessions at some of the FoodSavers pantries, we've held lots of school holiday cooking classes, continued with the schools we work with on a regular basis and worked with a new school and youth group. We've been teaching our adult cooking courses which everyone seems to be enjoying, we've worked with the MyLivingWell scheme on one of their projects, we attended Bradford's new food festival Taste:BD, and we've been feeling really excited about a new homemade bread project we've been involved with – who doesn't like homemade bread?
We started the year with some visits to Shine at St Stephen's Church, West Bowling. We held a few recipe demonstrations for visitors to their pop-up FoodSavers market. The sessions were enjoyed by many of the guests there, lots of people tried samples of what we had cooked, including a soup recipe, pancakes with fruit and a delicious and quick curry recipe.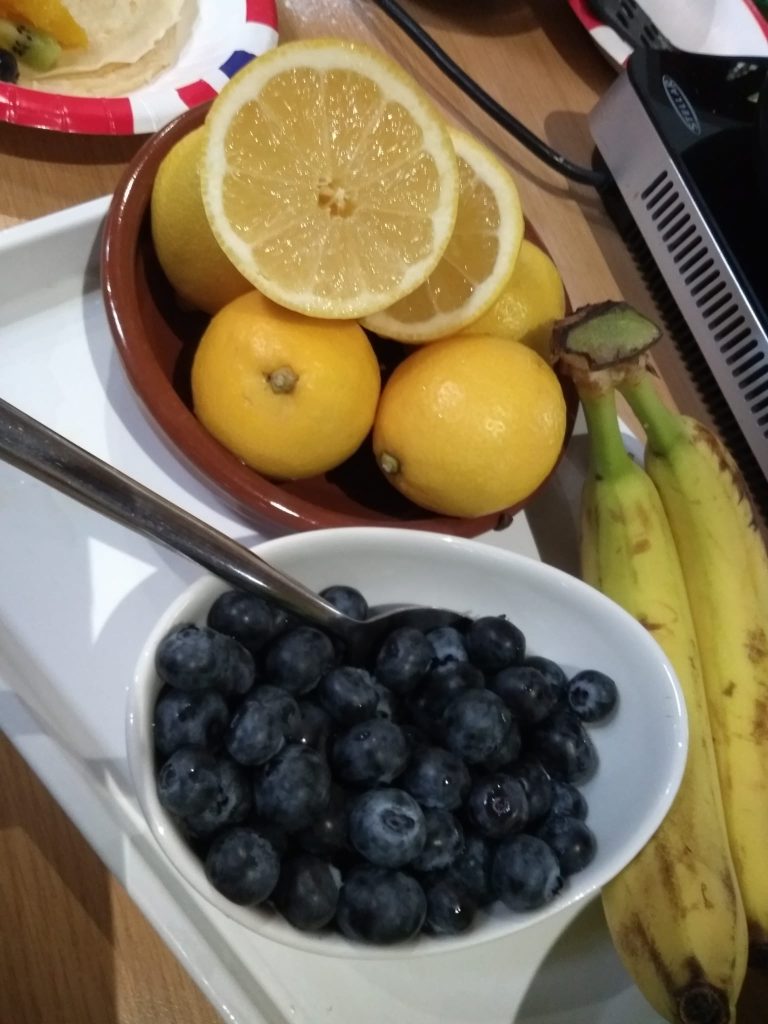 Half term and the Easter holidays came around really quickly, and we held lots of cooking classes for children and young people, some at our usual location at Shaw House, as well as visiting Ravenscliffe Youth Centre and Play Bradford to work with the young people there. A new group we have worked with this year was the Springfield Youth Club, where a number of young people took part in our eight-week course, cooking recipes including chicken chow mein, chickpea curry, salmon tikka and a fruit crumble. The group worked hard developing new skills and learning about different ingredients, and we're now looking forward to returning there later this year to work with another group. We are still working with school groups West Silc and High Park who continue to visit us weekly and are showing great development of their skills. We've also had a new school group recently join us from Park Aspire, so we're looking forward to continuing our work with them.
In addition to our work with young people, we have also been running our adult cooking courses. We always get a great response from group members discovering new recipes and learning new skills in the kitchen, with many saying they have made the recipes again at home. One lady shared that it has helped improve her health, saying it "helped me lose weight and eat well. So glad I got introduced to your classes."
This year saw a new food festival take place in Bradford, Taste:BD, and we were thrilled to be asked to take part with a Kids Masterclass cooking demonstration. Lots of people attended for some healthy packed lunch inspiration, with plenty of samples given out and goody bags too. We also worked with MyLivingWell to put together 1000 recipe bags for them to hand out to visitors at the festival.
More recently we've teamed up with Bradford Markets to deliver a voucher scheme, where we have given away nearly £2,000 of vouchers to cookery course and FoodSavers customers. The vouchers, which could be spent on any fresh produce bought from the market stalls at the Oastler Shopping Centre, have enabled many young people and their families to buy fresh ingredients that they can use to replicate the dishes they learnt with us. The voucher scheme has proven to be a massive success both with the traders and our customers. Many families have told us that they were inspired to go buy and try new ingredients that they have not tried before. We have seen many excited faces when they have come back and told us what they had bought. One young person was thrilled when he managed to purchase a fresh crab! It has been a great way to showcase the fresh produce on our doorstep and give people the confidence to choose and taste foods that will help them and their families make healthier food choices in the future.
Finally, our exciting bread news. We were pleased recently to find out about Kitty's Kits, set up by a young lady called Kitty. These kits contain everything to make great-tasting bread in one bag: either a loaf, baguettes, pizza base, or any other bread product you fancy. Kitty's mission is to distribute 10,000 free bread kits to various community groups, schools, food banks, prisons and social enterprises to enable people to make their own bread. We ordered 1,000 kits which are being given to FoodSavers pantries and many of the other groups we work with. The feedback so far has been amazing: "these bread kits are so easy", "love the taste", "we made date and walnut bread, and it was fab", "we made flat bread with ours", "I made sundried tomato and rosemary focaccia and it was lovely". We always appreciate feedback, so if you've tried a bread kit we'd love to hear from you. We'd especially like to see pictures of your creations, and please let us know if you've tried adding any interesting flavours to your bread, you might inspire someone else to try something new too!