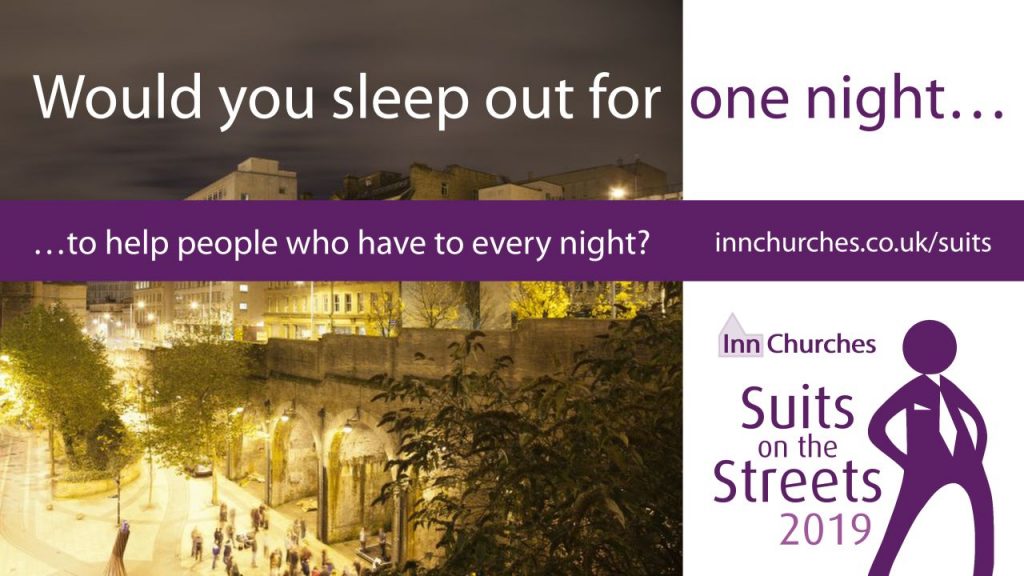 Suits on the Streets is our annual fundraising and awareness-raising event, where we invite a bunch of 'suits' from offices around Bradford to sleep rough, to support Inn Churches.
The event does not try and replicate homelessness, but our 'suits' sleep outside, on cardboard, on the cold hard floor – albeit with hot food, drinks, a roaring fire and buskers to keep people warm and entertained.
Suits on the Streets is a great event for teams or individuals to experience something together that, for many, is the reality of their everyday life.
The event aims to highlight the harsh realities of homelessness and also offers the opportunity to raise vital funds that will directly support homeless people in Bradford.
How to get involved
Let us know you want to take part by emailing suits@innchurches.co.uk.
We'll set up a fundraising page for you.
Get sponsored! People can donate to your online fundraising page, or you can download and print a sponsorship form.
You can also download our sponsorship image (click or tap the image to the right) for use on social media or other publicity.
Join your fellow suits 'under the arches'.
If you're not able to sign up as a 'suit', then why not persuade somebody else to sleep out and sponsor them instead!